Northside Express

---
What is Northside Express
Northside Express is our solution for the modern car shopper in San Antonio, TX: Save time, and money by completing the majority of your purchase from the comfort of your home. Northside Express is a more convenient way to shop, save, and apply for financing online. At Northside Ford, we've embraced this evolution to the fullest by providing our customers with the ultimate resource to both find new Ford models and acquire financing in minutes.
How does Northside Express work?
Our philosophy is simple: give you the right tools to find the perfect Ford and car loan rates. With this new Express Checkout system, those tools are always at your fingertips. Simply view any of our new Ford models for sale, and you'll be presented with all the essential details about that vehicle, including its Northside Price, sample monthly payments, down payment amount, term lengths, and more.
If you have a vehicle picked out, just click the Calculate Payments button, or Express Buy button, and go through a few short steps to identify your finance options. After providing your contact details and other necessary information, you can add your trade-in, and then you'll complete a credit application and receive an offer within moments. Then securely sign your car loan documents and plan a time to drive your Ford home or we can deliver it to your home! No hassles-just you, your new Ford, and an open road.
If you plan on purchasing your preferred Ford vehicle with cash or third-party financing, you can reserve your vehicle, too! We'll be sure to prepare it in advance of your first test drive.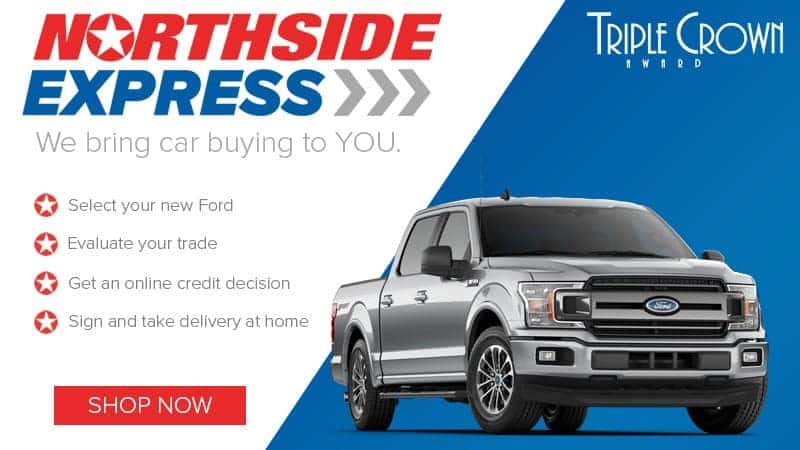 What makes Northside Express different?
You'll still have personal contact with our Concierge team and sales staff. You can do as much or as little online. And then work with us for anything you need, be that delivery to your home or workplace, etc. We are wanting to change the car-buying experience for our customers.
Can I buy new or used with Northside Express
You can buy any vehicle you want. Newton Fastpass is tailored to help fit your needs, whatever that looks like.
Our integrity to sell the best used vehicles isn't changing. Many online retailers like Carvana sell used cars, but they do not make sure they are quality used vehicles. They inspect, change the oil, and promise no issues. We are different. We are dedicated to the process of reconditioning almost every single one of our used vehicles. This means we do more than inspect; we fix issues. We put new tires on. We take care of that 20,000-mile service etc. We want you to drive away and be happy, not be faced with any issues a few weeks or months down the road.
We are so dedicated to this that we are willing to show you on each used vehicle exactly what we have done on that vehicle. We believe that this adds value and transparency in the process of buying a used vehicle.
Ford financing made simpler
The future is here, and it's beautiful. Use our new Northside Express Checkout to guarantee yourself the best pricing on the best vehicles from one of the best car dealerships in San Antonio. Shop our current selection of new cars for sale, and allow us to bring you into the modern age of car shopping. For more information about our new Express Checkout system or how to acquire fast auto finance approval, contact Northside Ford at Call Main Phone Number(210) 319-5684 or visit our San Antonio car dealership at 12300 San Pedro Ave.